WHAT WOULD A BUFFALO SAY ON A DAY LIKE TODAY?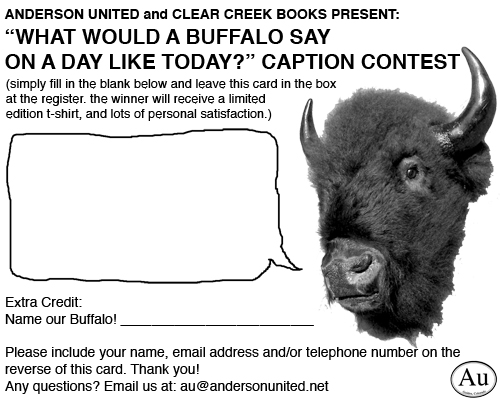 WINNERS ANNOUNCED!
Over Buffalo Bill Days weekend we installed our new buffalo head, Rufus Xavier Sarsaparilla, in the window at Clear Creek Books and asked you to fill in the blank. We received some great entries and have decided to award the prize to three captions...
"I can remember when the grass wasn't medicinal."
"God damn-it! I'm a buffalo! I don't say much."
"I can't feel my legs!"
We have contact information for the first two, but not for the third entry, so if it's you or you know who it is please contact us.
Thanks to everybody for participating!
Copyright Anderson United 2018